BORN: August 6, 1922
DIED: October 25, 2013
LOCATION: Austin, Texas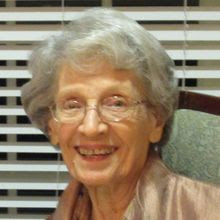 Mrs. Nancy Patterson Campbell, age 91, late of Magnolia, Arkansas, and widow of Dr. Robert Gordon Campbell, passed away quietly Friday, October 25, 2013 at her home in Austin, Texas. She is survived by her four children: daughter Shirley Campbell Gerber, and David Gerber of Austin, Texas; daughter Catherine Campbell Hill and husband Mark of Knoxville, Tennessee; son Gordon Brough Campbell and wife Jane of Honolulu, Hawaii; and daughter Helen Elizabeth (Betty) Campbell of Santa Fe, New Mexico. She was the proud grandmother of Christopher Howard, Kevin Gerber, Elisabeth Gerber, Matthew Paul Gerber, Laura Hill Davis and husband Shelton, Robert Hill and wife Emily, and Matthew Gordon Campbell, and great-grandchildren, Mariko Howard, John Howard, Christopher David Gerber, and Juliette Grace Davis. In addition to her husband, she was preceded in death by her parents, and sisters Evelyn Patterson Sachs and Shirley Patterson.
Born in Jonesboro, Arkansas on August 6, 1922 to Brough Patterson and Gertrude Kline Patterson, she was the youngest of three children. She attended Hendrix College in Conway, where she met her future husband, Bob Campbell. She was a graduate of Redlands College in Redlands, California and achieved her life's ambition in becoming a piano teacher, a calling that gave her great joy. Mrs. Campbell was a person of strong character and great compassion, with an inquiring mind and a lifelong interest in music and culture. She served as an officer in many music organizations during her career. She took great pleasure in the beauty of nature, and was an avid birdwatcher. She has been a member of St. James Episcopal Church since 1952, served on the Altar Guild and took part in the traditional soup luncheons. She said that her role as a loving mother and wife was the most important part of her life tasks.
A memorial service was held at St. James Episcopal Church in Magnolia on February 22.